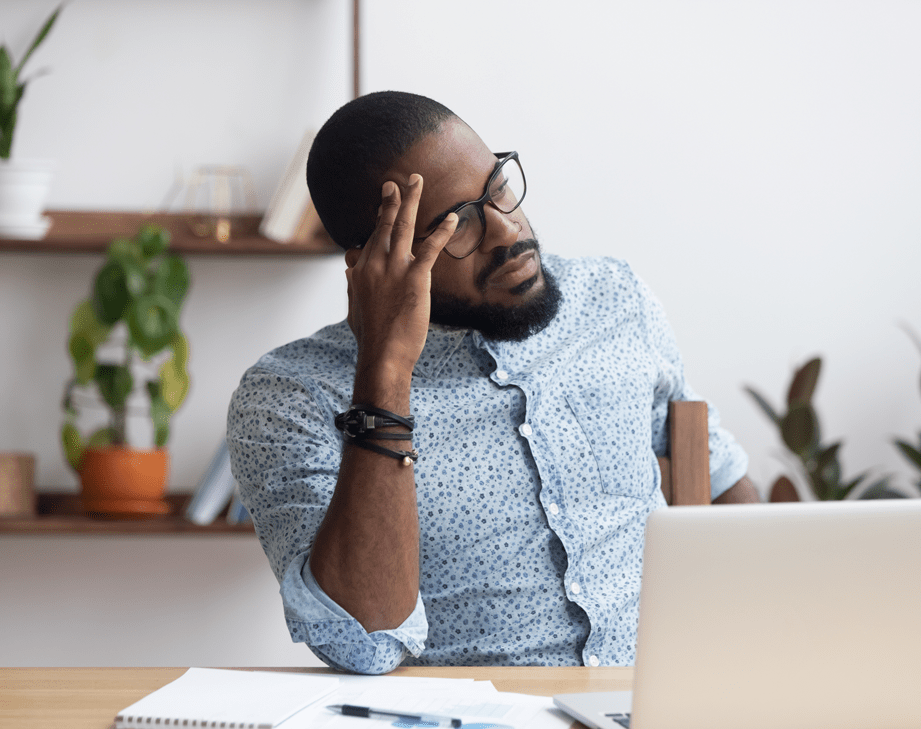 Top tips for building personal resilience at work
---
Low resilience and the effects of stress can creep up on you. It can start to feel familiar, even normal. You may not notice how much it's affecting you - and it may take a heavy toll on your mental and physical health. So, it's important to be aware of the warning signs and symptoms which might indicate you have low resilience.
What is resilience?
Resilience is our ability to deal with challenging situations effectively and positively, to be able to bounce back from setbacks and be flexible to adapt to uncertainty and changing demands.
The more resilience we have, the better we can manage pressure and protect ourselves from the adverse effects and symptoms, which we call stress. Being resilient can reduce the impact of stress on both our mental and physical health.
Signs and symptoms your resilience is low
Cognitive symptoms
Inability to concentrate and focus
Memory problems
Difficulty with decisions
Poor judgement
Struggles with planning and task execution
Negative thoughts
Behavioural symptoms
Eating more or less
Using alcohol, cigarettes, or drugs to relax
Sleeping too much or too little
Withdrawing from others
Reduced work performance
Making mistakes
Emotional symptoms
Low mood or general unhappiness
Anxious, agitated or constantly worrying
Fluctuations in mood
Irritability, or anger
Feeling overwhelmed or numb
Loneliness and isolation
Physical symptoms
Headaches or unexplained aches and pains
Indigestion, nausea or diarrhoea
Light-headedness, dizziness or palpitations
Rapid increased heart rate
Loss of sex drive
Frequent colds or flu
Building personal resilience at work
Use your strengths
We feel better about ourselves when we are confident and competent - this positivity helps us to see a way through our challenges. Knowing, developing and using your strengths builds confidence. So, look for opportunities to use your skills.
Ideas:
Make a list of your skills
Ask friends and colleagues to tell you what you are good at
Note down what your colleagues ask you to help with
Complete a personality questionnaire to identify your strengths
Find ways to practice and use your strengths
Make the most of your energy and drive
Identify tasks that make you feel motivated, positive and productive - what activities do you really enjoy? Either do more of these, or position these activities in your working day or week when you need an energy boost.
Ideas:
Note down the work tasks which make you feel energised and the tasks which drain your energy - think about how you plan these into your working week
What time of the day do you feel you have the most energy? Use this time to complete your most-important work
What working environment helps you to be most productive? Think about location, resources and the people who help you get things done
Find your purpose
Remind yourself why you do what you do. Review and align your aims, goals and objectives to your job, duties, tasks, or projects. This renewed focus helps to build motivation and drive to support you through difficulties and challenges.
Ideas:
Reflect on your reasons for doing what you do and link them to your current work
Note down your short, medium and long-term goals – make sure they are SMART (specific, measurable, achievable, realistic and timely)
Check in with your manager about your priorities and understand how they fit into the bigger picture
Create a visual planner of work tasks and projects
Remind yourself of the company values and mission and link this to your own aims
Don't go through it alone
You don't need to go through your difficulties alone. Resilience is about knowing our limits and both seeking out and accepting the help of trusted people around us. Find a way to connect to others to get the support you need - whether it is practical help, information and advice, or emotional support. Giving help to others also gives us a boost.
Ideas:
Take advantage of available technology at work for collaboration
Check in with your team regularly
Be proactive and reach out to colleagues
Offer help to others and ask for it when you need it
Think about the support you give and receive outside of work too
Provide resilience training at work
Personal resilience training can help your employees' cope better with adversity, tackle challenges more effectively, and maintain their mental health and wellbeing.
Resilience training for your managers can support your managers, team leaders and supervisors to build stronger, more resilient teams.
>> Find out about our personal resilience training