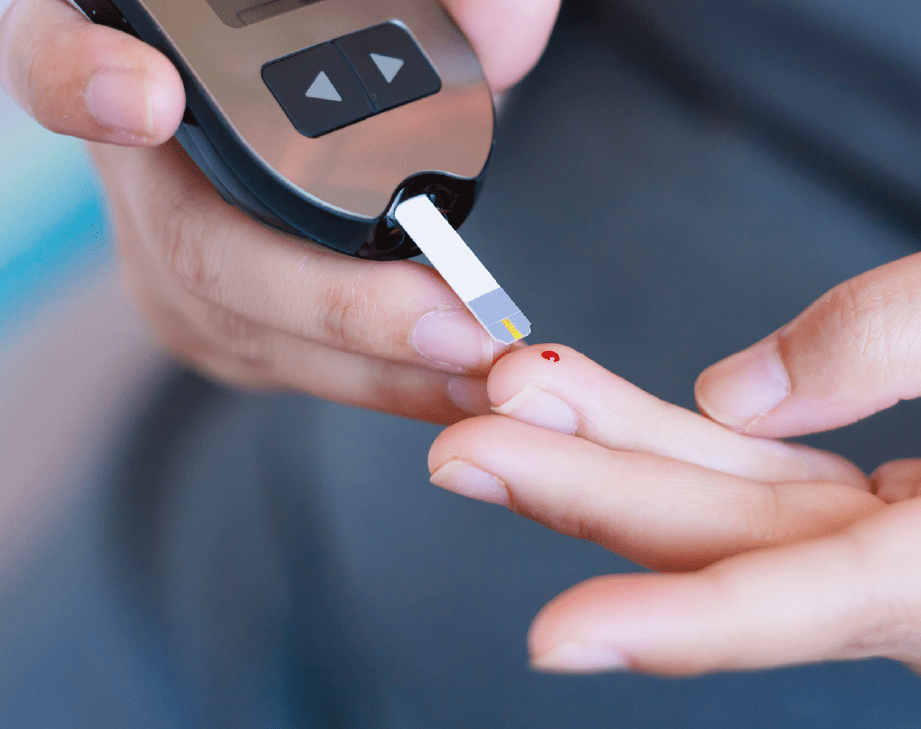 COVID-19 and High-Risk Conditions – Diabetes 
In the last update, we looked at COVID-19 and high blood pressure – in this one we will focus on diabetes.
There has been a very significant increase in the number of diabetics in the UK. In 1996 this figure was 1.4 million – it is now 3.5 million or approximately one-in-15 of the population. 
This increase has been linked to rising levels of obesity, which is a major risk factor. The majority of these are Type 2 diabetics, but there are 400 000 with Type 1 (insulin dependent) diabetes - of whom 29,000 are children.
In the short term, poor control can lead to diabetic comas caused by very high or low blood sugar levels. However, long term complications such as nerve damage, kidney failure and blindness are still seen all too often.
These risks can be substantially reduced with good diabetic control and healthy lifestyles.
HOW CORONAVIRUS CAN AFFECT PEOPLE WITH DIABETES
If you have diabetes – regardless of what type you have – the good news is that you are no more likely to catch coronavirus than anyone else. The majority of people who do get coronavirus – whether they have diabetes or not – will have mild symptoms and don't need to go into hospital. 
However, everyone with diabetes, including those with Type 1, Type 2, gestational and other types, is vulnerable to developing a severe illness if they do get coronavirus, although the way it affects people can vary from person to person.
Being ill for any reason can make your blood sugar control very erratic. The body tries to fight the illness by releasing stored glucose (sugar) into the bloodstream to give you energy. However the body can't produce enough (or any) insulin to cope with this, so blood sugars rise.
This can make it increasingly difficult for people to manage their diabetes.
WHAT ARE THE MAIN STEPS TO TAKE?
Ensure you have good supplies of medication and testing equipment. However, Diabetes UK has urged people not to stockpile - to ensure everyone has access to supplies. Pharmacists will support this.
If you are on specialist treatment such as an insulin pump or continuous skin monitoring, you can be reassured that the supply chain is good for these items.
Annual diabetic checks have been postponed or deferred in most cases but do check with your diabetic clinic or GP surgery. Eye tests are still going ahead in some circumstances.
Ensure that you continue your self-testing regime whether by finger prick or urine tests. Contact your GP or diabetic clinic if there are continually abnormal results for more than 3 days.
Continue your normal foot checks on a daily basis.
Do take regular exercise – this is especially important for those who have been shielding at home for extended periods.
Do redouble your efforts to stop smoking - even if you are only an occasional smoker.
Try and maintain a healthy diet despite the boredom and loneliness of self-isolation.
These should include:
Give priority to foods with a low glycaemic index (e.g. vegetables, whole wheat pasta/noodles)
Avoid excessive consumption of fried foods
Limit consumption of foods high in sugar, carbohydrates and fat
Choose lean proteins (e.g. fish, meat, eggs, milk, beans after fully cooked)
Eat green, leafy vegetables
Eat two or three daily servings of fruit
If you would like to find out how we can help your organisation and people manage and recover through COVID-19, contact us and one of our experts will be in touch.